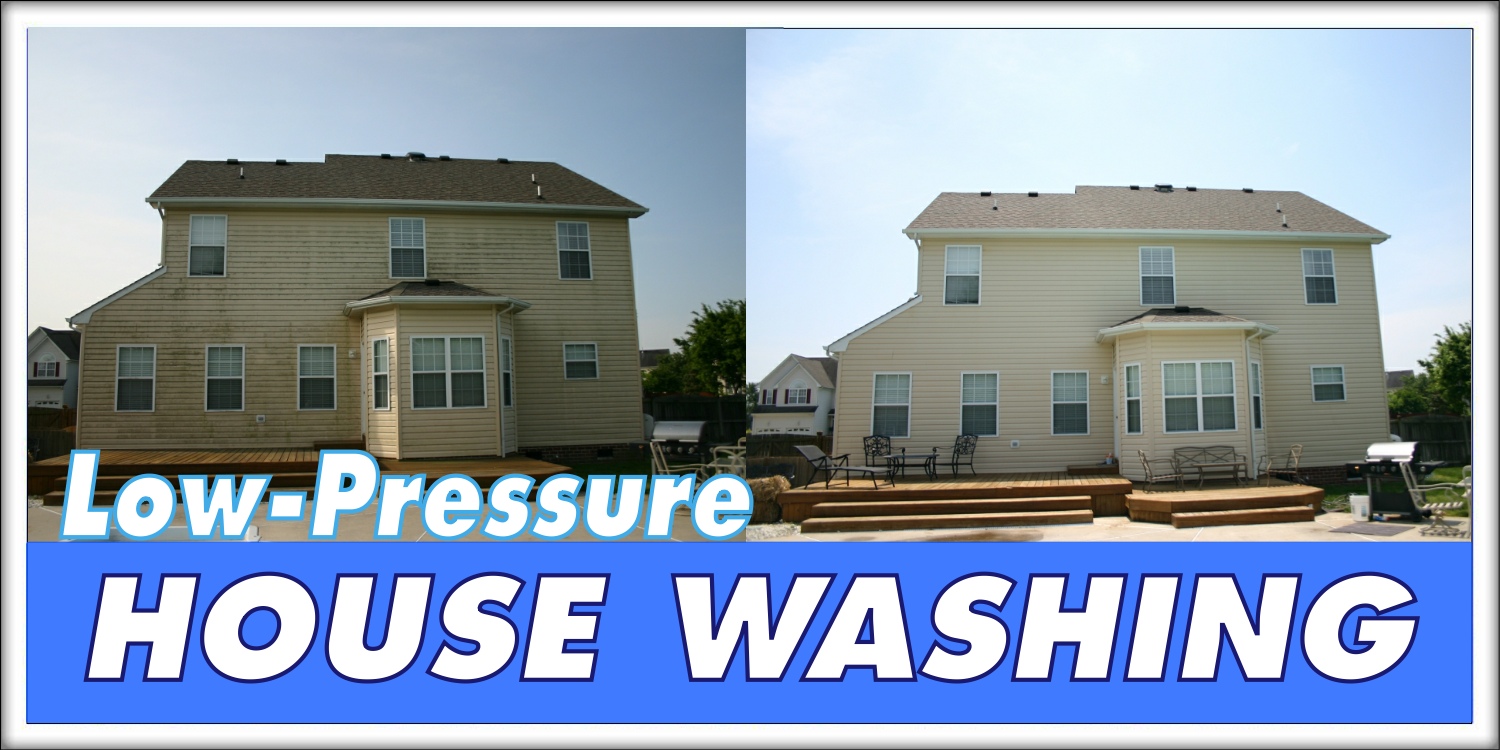 Low Pressure House Washing
Low pressure House Washing is a low-pressure application of water and special combination of biodegradable soaps to clean and preserve the external surfaces of your home. We gently apply the custom blended detergent to the outside of your home and allow the detergent time to break down and kill the stains taking up residence on the surfaces. After a predetermined amount of time we may apply multiple coats of detergent to continue to break down the severe and stubborn spots. After several minutes we use a low-pressure rinse to remove the solution and all contaminates. have determined the detergents have done their job properly we use a low-pressure rinse to cleanse it of the contaminates. This process will ensure all window and door seals will not be damaged.
Is it Safe?
Absolutely our cleaning process is safe for your property. We clean your home using biodegradable products that leave no unintended effects on your property after we leave.  Family and Pets can resume all activities after a cleaning.   We go to great lengths to protect your property and we make sure all items that could potentially be damaged during cleanings are removed or covered to insure this doesn't happen.  Most importantly our safe low-pressure process will protect your home's exterior from any damage that high pressure cleaning can cause.
Why Choose Intercoastal Exteriors?
Customer service is our number one priority while serving you. No bait and switch techniques, only the best value offered every time. Professional equipment and staff will handle any size job. We are industry experienced, trained, and certified professionals. We at Intercoastal Exteriors are safety conscious and aware of property and staff.  Licensed and fully insured for up to two million dollars for pressure washing services. Handymen and landscapers may be insured for some items, but this may not cover pressure washing while on your property. We are environmentally certified and understand wastewater laws and act in complete compliance with EPA and the Clean Water Act while servicing your business or residence. We 100% Guarantee that you are and will be happy with our work.  Call us now to set up your fast and friendly, free estimate.